Danish recipes
I decided to include a section with Danish recipes on my family history site. I know many of you would like to try some traditional Danish recipes. This is why I want to make some available for you.
However, my Danish recipes are unfortunately only written in Danish at the moment. Until I have time to translate them into English, please use a tool like Google Translate to read them.
Bon appetit!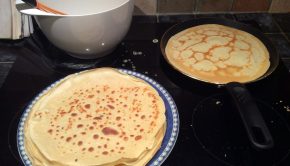 Pandekager som i gamle dage – eller med et twist
februar 21st | by

Lola
Pandekager som i gamle dage – findes der noget bedre? Da jeg læste på universitetet, var der ikke noget bedre,...
also in the Recipes category
Ingen kategorier